Archive | Article
RSS for this section
Note: To see these tweets and videos embedded on an interactive map, click here.
In the late morning of February 24th, 2022, an American journalist captured a young boy on the grand piano in Kharkiv Palace Hotel playing Philip Glass's composition 'Walk to School'. The city of Kharkiv was the first in Ukraine to wake up to missile strikes that very morning – the first day of Russia's full invasion. It is a child's peaceful reaction to violent intentions. The conflicting feelings evoked by this one scene alone, while the Russian army was advancing on the city, are powerful. It also became an example of a filmed musical event that gained viral international attention through social media and evoked an expression of solidarity from the song's authors.
The city of Kharkiv was a key site of Stalin's 'brotherly terrors' in the 1930s, most well-known of which is the Holodomor Famine Genocide of 1932-33, when approximately 4 million people died. As part of cultural ethnic cleansing, countless Ukrainian intellectuals in literature, theatre, arts, and music were killed. Soviet authorities exterminated hundreds of kobzars in Kharkiv, the wandering and often blind minstrels of Ukraine. Invited under the pretense of attending a musicians' convention in 1932, notes Viktor Mishalow in his 2008 dissertation "Cultural and Artistic Aspects of the Origins and Development of the Kharkiv Bandura," the kobzars and the ethnomusicologists who researched and documented their music, were executed.
Stalin's violent transformation of the rural society essentially ended the kobzardom, and performing on the lute-like instrument kobza was replaced with performances of folk and classical music on the bandura – in an attempt to re-territorialise the tradition. As Ian Biddle and Vanessa Knights (2018) argue, 'the re-territorialisation of local heterogeneous musics to nationalist ends has often signalled the death or near-fatal displacement of regional identities' (12). These new performances consisted of censored versions of traditional kobzar repertoire and focused on stylised works that praised the Soviet system. As in all occupied regions, the Soviet authorities had identified a music which carried a strong national sentiment and attempted to change its meaning, an example of how musical styles can be made emblematic of national identities in contradictory ways (Stokes 2014).
In addition to being a centre for classical music, the multicultural city of Kharkiv is considered the country's capital of hip hop, a genre that Helbig (2014) argues that in Ukraine 'oscillates between the highly politicised and the farcical.' Throughout the Russian Empire and the Soviet Union the Ukrainian language was suppressed, and the decision to rap in Russian or Ukrainian, continues to politicise the genre. The Russian language opens up a bigger market for artists, but Ukrainian carries a strong national sentiment, especially in light of progress by national leaders such as Yushchenko and Zelenskyy in bringing awareness to the violent events in the region's history. Interestingly, the most famous Kharkiv group TNMK (Tanok na Maidani Kongo) rap in Ukrainian and interject their lyrics with surzhyk, a creole mix of Ukrainian and Russian typical of eastern Ukraine (Bilaniuk 2006).
Fierce political meanings in Ukrainian hip hop are exemplified by the song most associated with the Orange Revolution – rapper GreenJolly's 'Together we are many, we will not be defeated'. Ukrainian lyrics index the communal force of approximately half of the country's population that opposed the fraudulent presidential election results Helbig (2014). Recorded in four hours, the song embodies the fight against lies, corruption and censorship. The Orange Revolution achieved its re-election goal through peaceful means, and musically it marked a victory for Ukrainian-language songs, especially rock and hip-hop, over Soviet-style and commercial Russian-language pop associated with the Yanukovych campaign, argues Klid (2007, 131).
It is no surprise then, that on February 25th, 2022, a day after Russian invasion, a video emerged of Kyiv university students hiding from shelling singing along to '22' by Ukrainian rapper Yarmak. This political hip hop song had soundtracked the later and more serious stage of the Euromaidan, with its title referring to the number of years Ukraine had been independent from the USSR at the time. The lyrics speak of an exploited and beaten 22-year-old girl whose name is 'Ukraine', poignant for the later stage of the uprising when police brutality had turned the peaceful protests into deadly street battles (Hansen 2019). Here, the language of music is directly informed by the metaphors of conflict, offering in turn a 'lexical setting' for understanding the place of music in it (O'Connell 2010).
Hip hop has gained popularity since the early 90s, a phenomenon which has been attributed to the wider embrace of Western musics and the English language, the 'cool' element of the genre as an identity marker for young people signalling connections to the West, and, in part, to how Black expressive culture has the ability to connect with other scenes of resistance, displacement and exclusion: Jewish and Asian, to name a few (Melnick 1999, Wong 2004). Hip hop in Ukraine has become a space in which to negotiate a cultural identity, the revival of the 'local' and the influence of the global, the Western cultural space and the lived Soviet history; the shift in the Ukrainian consciousness towards the West, and the long-term effects of Russification.
As such, hip hop in Ukraine takes on interesting aesthetic qualities, resulting in the 'angry folk rap' (Hansen 2019) of the Dakh Daughters, or The Kalush Orchestra, the folk rap group representing Ukraine in the 2022 Eurovision Song Contest. After taking up arms as part of the Territorial Defense of Kyiv or supporting humanitarian efforts during the first month of the war, The Kalush Orchestra were seen on the streets of Lviv again on April 2nd performing their winning entry 'Stefania'.
The song – written for the frontman Oleh Psiuk's mother – now an ode to all Ukrainian mothers – could be viewed as a utopian space in which regional, national and other ideological affiliations are levelled out ( Biddle and Knights, 2008). The group's folk-rap song 'Stefania' utilises the Ukrainian woodwind instrument of the flute family called Sopilka, in a similar way that singer Ruslana featured the Trembitas – Ukrainian wooden alpine horns – in her winning entry back in 2004.
Ukraine's music scene is a site of identity discourse to locate a certain kind of 'rootedness' in linguistics and folklore – a territorial, inward-looking sense of place (Nederveen Pieterse 1995: 61). The presence of folk elements in contemporary composition reflects a strong ethnomusicological revival, as students and scholars have travelled to rural areas to record the surviving musics. The relationship between musical materials and the sonic projection of territory is complex, and such mixed genres should not be articulated simply as examples of musical hybridity. In Ukraine, they seem to conjure up a liminal 'interspace' between a historicised imagination of Ukrainian folk and the hip hop sensibility, where the encounter between folk and hip hop is a meeting of the regional and the global, the latter always ready to absorb and redistribute the former (Biddle and Knights, 2008, 13).
For an oppressive power imposing cultural hegemony by force, a folk song with its deep histories and meanings is dangerous, best felt through this video of Katya Chilly performing 'The Willow Board' in Kyiv.
I saw Ukrainian folk music legend Katya Chilly today! Here she is, singing barefoot in Kyiv. Not besieged,not encircled Kyiv. Calm and polite Kyiv, waiting and getting ready for everything pic.twitter.com/4RI51DjlQY

— Nika Melkozerova (@NikaMelkozerova) March 19, 2022
This folk song was traditionally performed while playing a spring game and gained popularity through the Ukrainian film Shadows of Forgotten Ancestors from 1965. The film is a masterpiece of Ukraine's cinematic history and tells the story of Ukrainian Hutsul lovers in the Carpathian mountains. Back in the 60s, Soviet reviewers departed from international acclaim and criticised the film's fascination with Ukrainian ancestry, as well as its departure from socialist realism – the official genre in the USSR (Boboshko, 1964). Ukrainian history is punctuated by such subversive cultural products, from the songs created by Ukrainian Sich Riflemen during WW1, or the performance of bard music as protest and dissent in the 60s and 70s. In the 1980s, Glasnost and the weakened state of the Soviet Union allowed for the Ukrainian bandura, and surviving kobzas, to be played in public again alongside Western genres, such as rock and electronic – music scenes that balanced themselves on the Westernmost margins of permitted Soviet culture (Smidchens 2014, 209).
One of the most circulated videos of the 2022 invasion is a video of Andriy Khlyvniuk, member of funk-rap group Boombox, performing a song written in 1914 in memory of Ukrainian Sich Riflemen.
This dude is #Ukraine's most popular hiphop singer. Also immensely popular in #Russia. This is how he spends his days now: pic.twitter.com/Dm4aZlQjXD

— UkraineStream 🇺🇦 (@ukrainestream) February 28, 2022
'The Red Viburnum In The Meadow' represents the national kalyna fruit of Ukraine and implies a connection to blood roots and an ancestral homeland. First remixed by South African artist Kiffness, the video achieved its highest recognition after Pink Floyd featured Khlyvniuk's vocals in their first release in thirty years, significant to those who remember the rock and roll resistance movements in Eastern Europe which, in the 1970s-80s, formulated a critique of society that 'literally made the regime face the music' (Risch 2014, 245).
Because music-making is associated strongly with celebratory occasions, many artists ceased performing and recording as usual, and either enlisted or applied their talents to humanitarian effort. Folk musician Taras Kompanichenko enlisted in the defence forces and was seen performing his kobza to fellow troops.
Okean El'zy's frontman Svyatoslav Vakarchuk continued to lift the spirits of people hiding in metro stations as these transformed into important sites of musical activity. After three days spent underground, violin student Masha Zhuravlyova picked up her instrument, and through personal expression, helped release stress in the people and pets around her. The thread here is of music as survival, and music as a resource for emotional solidarity in communities that have been subjected to extremes of violence (Stokes 2020). Masha inspired her teacher, violinist Vera Lytovchenko, to perform a 19th century folk song 'What a Moonlit Night' in what became a widely circulated video from a Kharkiv shelter. In this rare video from Mariupol where the Russian military hit hardest, newborn baby Nikitos was sang to by her mother in a shelter.
Imagine giving birth in sieged Mariupol, under constant bombardment. Imagine singing to your newborn like this in a bomb shelter. Imagine escaping the blockaded city with him in your arms, risking your life at every single step. Ukrainians don't have to imagine. This is our life. pic.twitter.com/NqOsROwL2b

— Anastasiia Lapatina (@lapatina_) April 5, 2022
On the whole, the song that has appeared most in this resistance, is the Ukrainian anthem. It appeared in high numbers from the very first days of the invasion; in Kyiv, to help cope with the initial shock and violence of war; or in Mariupol, where a teenager prepared for what was to come.
While the Russians continue to advance on the strategic port city, of Mariupol, I end today's Twitter flood with this beautiful video of a teenager singing the 🇺🇦 anthem on the Freedom Square of Mariupol. He sang there during an air raid. The voice of freedom will prevail ✊🏻 pic.twitter.com/LvJfo3gmlW

— Mattia Nelles (@mattia_n) February 27, 2022
In Sumy, the anthem was played out of a window on trumpet after fierce street battles; an act of collective feeling that resulted in pro-Ukraine chants from neighbours, and example of how 'tuning in' (Schütz 1977) through music can lead to a powerful affective experience that literally embodies social identity (Stokes 2014, 12). The anthem was performed on a daily basis by the Odesa opera singers while filling sand bags on the beach, and repeatedly used in radio warfare to jam Russian military communications.
Au yacht club d'Odessa, les chanteurs d'opéra Yuriy Dudar et Andrey Harlaov sont venus remplir des sacs de sable. Ils font de temps en temps des pauses pour chanter l'hymne national ukrainien pic.twitter.com/PJ76C0ndsZ

— Pierre Alonso (@pierre_alonso) March 8, 2022
The Ukrainian anthem is called 'Ukraine is Not Yet Dead', composed in 1863 by Mykhailo Verbytsky to a patriotic poem by ethnographer Pavlo Chubynsky. It was the short-lived anthem of the Ukrainian National Republic in 1917 and restored as such after the restoration of independence in 1992. As it represents both national feeling and a long struggle for autonomy from Russia, it was significant to see it performed by an anti-war protester in Moscow, who was detained as a result.
#Russia More than 2000 people have been detained in Russia during anti-war protests. This is Moscow. This man is singing the state anthem of #Ukraine pic.twitter.com/4rndvpdK2v

— Hanna Liubakova (@HannaLiubakova) March 6, 2022
Most interestingly, across Ukraine, the anthem was performed in collective singing sessions next to tanks or in attempts to stop them. Music became the means by which the community appeared as such to itself, and also the means by which it projected itself to the Russian soldiers (Stokes 2014, 12). In the region of Melitopol, one of the first to be captured by Russian forces, civilians gathered to protest the occupation, and, using the anthem as their weapon, successfully made a Russian convoy turn around. As the singing continued on a daily basis, there is a high number of video evidence online, including this clip which captures a protester's conversation with a Russian soldier. In what some commentators have concluded as an 'uncomfortable' exchange for the soldier, the woman says: 'You see we are just regular people? We are not 'banderas'. Some of my family lives near Moscow'. Near Energodar, one such confrontation turned violent. A group of civilians sang the anthem near a Russian column and the armed troops responded by throwing grenades (trigger warning: violence). In this instance, the music emanating from civilian bodies became a direct target in warfare.
Ordinary people. These amazing, wonderful, unbreakable people who are changing history in Ukraine.
Here they are – singing Ukrainian anthem in the occupied Berdyansk. #StandWithUkraine#visamastercardleaverussia pic.twitter.com/EQcldgqacc

— olexander scherba🇺🇦 (@olex_scherba) February 28, 2022
Civilians in occupied towns kept coming together to sing in what Benedict Anderson calls a 'unisonance,' a 'physical realisation of the imagined community' (Smidchens 2014, 78; Anderson 1991). Signs of musical identity organise strategic, intersectional mobilisations of community around struggles for social and political justice, argues Stokes (2014). Of key interest is this battle of anthems in Kherson on March 20th. In a physical manifestation of the 'patriotic myth' (Sugarman 2010) that romanticises the Soviet Union and informs the violent effort to rebuild it, Russian soldiers blasted the USSR anthem from one side of the street, while local groups resisted by singing the Ukrainian anthem on the other.
Occupied #Kherson. Invaders play back the anthem of USSR. Locals sing the anthem of #Ukraine.#StandWithUkraine️ #UkraineUnderAttack #RussiaInvadedUkraine #Terrorussia #PutinIsaWarCriminal #StopPutin #RussianUkrainianWar #RussiaGoHome #НетВойнe #россиясмотри #Russia pic.twitter.com/mCIEsN7oJJ

— olexander scherba🇺🇦 (@olex_scherba) March 19, 2022
A parallel could be drawn with an impromptu piano concert on the police barricades during the Euromaidan in February 2014, where a street piano had become a central location for protests. A group of artists, including singer and ethnomusicologist Ruslana, gathered to perform Western music, while the police on the other side attempted to drown the melodies with Russian pop – a confrontation between political alliances and musical genres that have come to signify the two sides of the conflict. It is an example of how music is used by social actors in specific local situations to erect boundaries, to maintain distinctions, and how terms such as authenticity or even 'taste' can be used to justify these boundaries (Stokes 2014).
The revolutionary status the Euromaidan piano came to embody was unforeseen by its creator Markiyan Maceh, who had gotten the idea from the street piano in Lviv. Throughout Euromaidan, the instrument welcomed many well-known and amateur musicians, and soon the idea of 'the lonely pianist against a row of militia' became a powerful symbol, proved so by Russian officials labelling it 'piano extremism'. As a central symbol of the uprising, the piano was placed as close as possible to the police lines to make the police sympathise with the protesters, and, as a version of 'external identity marketing' (Brokaw 2001), to provide a striking image to the world's media. Social performance is a practice in which meanings are generated, manipulated and even ironised (Stokes 2014, 12).
The Western city of Lviv, in Soviet times considered part of the 'Soviet West', became a key location where people fled to from the eastern region. The piano outside Lviv central station became a welcoming point for refugees, meeting point of musicians and an outlet for a range of emotions. Played every day, the piano witnessed Svyatoslav Vakarchuk perform his song 'Hug me' ('The day will come when the war ends…') through tears,a beautiful rendition of 'What a Wonderful World', and, perhaps the most powerful in my view, pianist Alex Pian's performance alongside air raid sirens.
Hans Zimmer's 'Time' took on a new meaning in this moment, described by Pian as his inner protest to 'sirens, bombs, murders, and war'. Here, the violent conflict is literally inscribed within the life of music and recorded musical values, and provides an articulation of sonic dissonance in the social realm (O'Connell 2010). Three days later, Zimmer projected the video during his London concert as an act of solidarity. The sirens heard in this clip have become a daily soundtrack to urban life in Ukraine, and a key sound of the war, with field recordings going as far as calling it the true anthem of Russia.
An outdoor concert in Lviv on March 26th was cut short due to air raid sirens. The clip of the scene is astoundingly calm as the musicians and audience nod in acceptance and leave quietly to find cover before missile attacks. A month into the war, such activity had become part of everyday life, and outdoor concerts continued to take place on Kyiv's Maidan Square, in Odesa and in Lviv. In addition to collective gatherings, more private and solo musical moments occured in homes and on the heavily bombed streets, as exemplified in this video of a musician playing 'My Dear Mother' by Maiboroda in Kharkiv.
In two instances of solo piano, we are privy to the different phases of the war. Before evacuating, a woman said goodbye to her bombed home in the town of Bila Tserkva, a moment that strikes a hopeful and resistant tone in comparison to this video of a soldier in Irpin almost a month later. From neighbouring Bucha, now synonymous with Russian war crimes, I have mapped only one video –this woman singing along to her music in the sun after spending 25 days in an underground shelter.
My analysis of the music collected in the mapping project is the first step towards understanding some of the ways in which music has appeared in–and is an integral part of–Ukrainian resistance. Each section of the map deserves individual attention, and there is potential for a more comprehensive project and documentary film in the growing numbers of footage (at 180 as of this posting).
I hope the project contributes to thought around music and conflict, specifically in Ukraine and Eastern Europe. While the map has been built from one person's findings and so far only shows the moments filmed and shared publicly, the large number of entries already tells us much about the resistance, and the crucial role that media products can play in present-day military conflicts.
The focus of any applied ethnomusicology projects should be on Ukrainian war survivors for whom this research could prove beneficial. I also hope the map provides a sense of solidarity and a connection to Ukraine for those who have left and those who remain.
—
Merje Laiapea is a curator, artistic programmer and writer working across sound, music and film. She is completing her Master's in Global Creative and Cultural Industries in the Music Department at SOAS, University of London. Within the broad realm of music and cultural identity, her research interests include the expressive power of the sound-image relationship, forms of frequency, and multimodal approaches to research itself. She assists with event production and community engagement at SOAS Concert Series and works as Submissions Advisor for the 2022 Film Africa festival. Merje also broadcasts the occasional radio show and DJ mix. To find out more about Merje's motivation behind the project, click here to read an interview by the University of London.
---
REWIND! . . .If you liked this post, you may also dig:
Deejaying her Listening: Learning through Life Stories of Human Rights Violations– Emmanuelle Sonntag and Bronwen Low
SO! Podcast #78: Ethical Storytelling in Podcasting–Laura Garbes, Alex Hanesworth, Babette Thomas, Jennifer Lynn Stoever
Reproducing Traces of War: Listening to Gas Shell Bombardment, 1918 – Brían Hanrahan
Twitchy Ears: A Document of Protest Sound at a Distance–Ben Tausig
In honor of International Podcast Day on 30 September, Sounding Out! brings you Pod-Tember (and Pod-Tober too, actually, now that we're bi-weekly) a series of posts exploring different facets of the audio art of the podcast, which we have been putting into those earbuds since 2011. Enjoy! –JS
I've listened to an inordinate about of podcasts in the past year and half; the number of hours would be shocking. I've written about this previously: how audio, friendly voices in my ears, was a more comforting medium than television or film. In early 2021, Vulture's Nicholas Quah published findings about the continuing rise of podcasts, suggesting that American audiences are intensifying their interest in the medium. He writes, "The case began to be made that podcasting, more so than many other new media infrastructures, was uniquely suited to meeting the moment," suggesting that the pandemic has buoyed the medium extensively. His findings also show that podcast audiences are engaging more directly and are growing in diversity. The running joke about the medium is that everyone has a podcast. I certainly do. Comedians do. Talk show hosts do. Politicians do. In a recent episode of Bitch Sesh: A Real Housewives Breakdown Podcast, hosts Casey Wilson and Danielle Schneider joke that now every Real Housewife feels the need to start her own podcast, too.
In this 2021 moment, the series The Complete Woman? has become more relevant than ever, particularly in relation to the rise of conversations about the "Karen," and a particular kind of white woman who attempts to wield social and racialized power. The podcast is marked as a "Baby Boomer" parody – or a fictional show directed at a fictional Baby Boomer audience. It's eviscerating that culture, however, in its caricaturing of Marabel May and her friends, interrogating contemporary conversations about whiteness and middleclass-ness; its dark humor lies not in outdated gender roles, but in how incredibly close to home it all hits. It's not a distant past, but a current reality.
The Complete Woman podcast directly destabilizes nostalgia, even as it draws on older audio formats. In the series, comedian Amanda Lund parodies real-life mid 20th-century marriage self-help author Marabel Morgan, who promoted women's deference to their husbands through evangelical Christianity – her book is titled The Total Woman, as mentioned by Vulture writer Nathan Rabin, a critical enthusiast of Lund's series. The fictional Marabel May (voiced by Lund) is a housewife living in 1960s America with her husband, Freck (Matt Gourley). The Complete Woman series is set up as audio companions – diegetically understood as vinyl records – to Marabel's book of the same name, which she penned after successfully saving her "disaster" of a marriage. She claims, "I believe it's possible for any woman to manipulate her husband into adoring her in matter of weeks." Each episode of the series focuses on a different aspect of womanhood or features a "checking-in" with Marabel and her "neighborhood gal" friends, aggressive Joanie (Maria Blasucci), muddled Barbara (Stephanie Allynne), and jovial divorcee Rita (Angela Trimbur).
The segments featuring Marabel chatting with her neighborhood girlfriends are particularly insightful, as each woman expresses her own warped version of the mid-century American marriage. They also combine the outdated instructional segments with more modern casual conversations, highlighting The Complete Woman's addressing of women's emotional labor, as well conventional housework. These segments also illuminate the distinctly female-driven nature of the series, as these voice actresses tend to improvise the discussions at hand. The back-and-forth between these women is both satirical and demonstrative of a sense of fun in their parody, and, at times, sincere friendship behind-the-scenes. Though a harsh satire of women's positions in American culture, the show reveals a sense of community as Lund features her friends, all working comedians and actresses based in Los Angeles who find creative outlets in podcasting.
Format here, is significant too. The podcast directly satirizes an older format–self-help vinyl records–and its usage – questioning the ideologies of the past and present. The series conceptual set-up is nostalgic, but the content is not. The Complete Woman is unique in its use of format to draw on nostalgia for these pedantic vinyl recordings; the specificity of the audio and structure of the series suggests Lund has some fondness for these bygone formats. But the formatting is also used to critique and comment on the historical sexism and patriarchalism of marriage. While this is done with humor, the satire presented by the series sounds shockingly grounded in reality.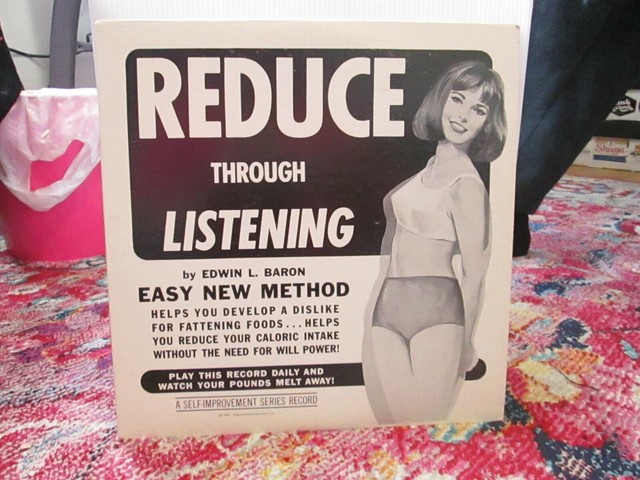 To understand the concept of The Complete Woman series, let's examine the opening episode's introductory narration. The first episode begins with the show's recurring "groovy" 60s-style music, signaling a move to the past. While the show is about women for women, a male narrator is the first voice heard – an immediate indicator of Marabel May's deference to men, and thus the imaginary audience's, as well. The narrator states, "Welcome to The Complete Woman, the audio-companion to the number one bestselling book of the same name, written by Marabel May. It's 1963, divorce is on the rise, the tides are changing, and marriages are drowning."
The voices in the podcast sound echo-y and distant, reminiscent of listening to an old recording, which positions the listener as a participant – as if they are indeed in a struggle marriage and choosing to play this record and get advice from the fictional expert. Marabel then, in a deadpan manner, states, "Hi, I'm Marabel May, bestselling author, unaccredited marriage expert, and stay-at-home wife. Are you stuck in an unhappy marriage? Feel like there's no hope in sight? You're not alone. I receive millions of letters in the mail every day from sad people just like you. Here's what they have to say." Melancholic piano music starts playing as different voices – both male and female – express their unhappiness in their marriages: for example, "I mean how many nighttime headaches can one woman get?" Marabel comes back, after the sound of a record scratch, "But wait, there's hope!" Again, the recording aspect pulls the audience into the fictional space of Marabel May and her dire need to save marriages.
The 60s-style music picks back up as the male narrator begins again, "Marabel May's Complete Woman course is scientifically proven to improve your marriage – or your husband's money back!" Marabel states, "But don't take it from the faceless announcer guy. Take it from the countless, faceless, voices I've helped." More voices of men and women are heard praising Marabel's method: for example, "I used to get upset when dinner wasn't on the table when I got home from work. Now, I know I'm right." Marabel responds to these:
Thank you. Are you ready to take the next step toward marital bliss? You've read my bestselling book, now it's time to jump into the audio companion. I suggest you listen to this record in a calm, quiet setting. Lock your children in their rooms and put your pets in a basket. Pour yourself an afternoon swizzle and settle in. You're about to impart [sic] on a life-changing journey. Your husbands will thank you!
This exchange suggests both that the audience is enveloped into the diegesis of the podcast, but also the series' dedication to a bygone format – though the dialog is humorous, the concept of The Complete Woman as a vinyl audio-companion never wavers.
The Complete Woman purposefully – and at times very uncomfortably – puts the listener in the position of someone who is genuinely interested in Marabel and her friends' worldviews, who aligns with her outdated sexist and racist ideas: Marabel refers to "Oriental China," and Barbara refers to "not being in Calcutta" when oral sex comes up in conversation. While lampooning these behaviors, the podcast is also forcing its listeners to reckon with them, to consider their own thinking as they are positioned as an audience who would agree with everything Marabel is saying.
What is additionally powerful about The Complete Woman is its reliance on authenticity in its sound. The doctrinaire voices of both the male announcer and Marabel May are so identifiable as typical affected self-help narration; their voices are upbeat but never hurry or seem too excitable – they maintain an evenness that is uncanny. Their tone and manners of speech undermine what the characters are actually saying, making this fictionalized companion album seem all the more legitimate, as if this series was found in a used record store – a kitschy yet forgotten audio self-help guide from the 60s. The intonation of the voices is overtly making fun of white voices assuming and exerting authority, no matter the absurdities that being spoken. The medium allows the audience to move in and out of positions: as genuine followers of Marabel May, as listeners of what might be a kitschy thrift store find, and as comedy fans. The sound maneuvers the audience constantly, suturing them to the aural space of the podcast in a myriad of ways.
The Complete Woman parodies albums like Folkways Records produced in the mid-twentieth century, not just in its material, but also the length of the podcast episodes – a little over twenty minutes, just enough to fit perfectly on a vinyl side. The 1963 Folkways produced Understanding of Sex is a symptomatic example of precisely what the podcast is trying to mock, a pedantic authoritative voice, with liner notes boasting backing by doctors. Important, too, is the Folkways record's completely white, heteronormative take on sex – which is here discussed solely in the context of maintaining a happy marriage. The Complete Woman's devotion to the medium is humorous, but also in how it brandishes its critique of modern womanhood: its commitment to authenticity betrays how much Marabel's teachings disturbingly relate to the modern moment.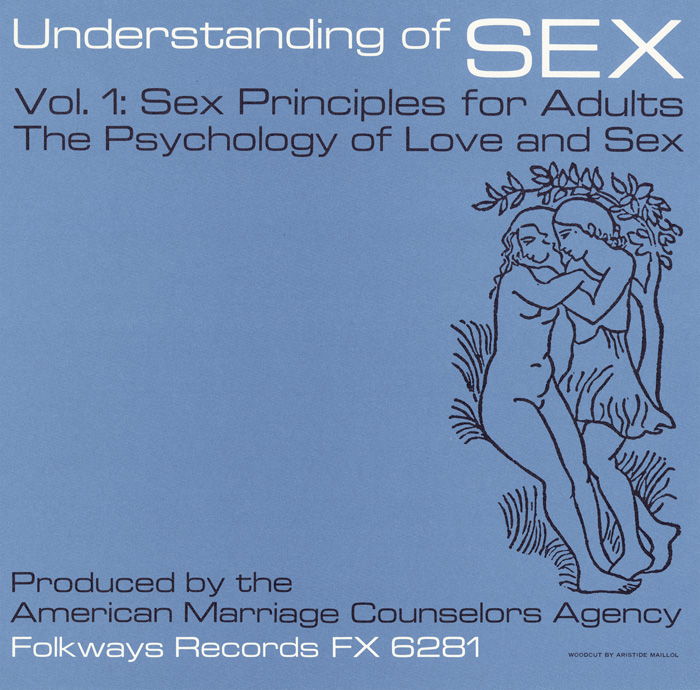 The original The Complete Woman was followed up by four more series including the most recent, The Complete Christmas. I, however, want to dissect an example of scenes from The Complete Wedding's second episode "Bridal Colors" in order to demonstrate how the series utilizes the podcasting format to position the audience as both in and out of the joke.
This episode uses sound to highlights the absurdist, yet bitingly relevant, commentary on wedding planning, both then and now. "Bridal Colors," with women's discussion of picking the perfect dress and color scheme for their weddings, especially underlines not only the parody of mid-century culture, but contemporary obsession with wedding planning. With the internet and influencer culture as an endless source of consumption, advice, and color palettes, modern wedding planning does not seem so different from Marabel's suggestions – particularly in how both exude whiteness, middleclass-ness, and heteronormativity. Those resonances suggest that, despite The Complete Woman parodying a mid-century mindset and the use of older sound technologies, the analog and the digital are applied in very similar ways to maintain a status quo.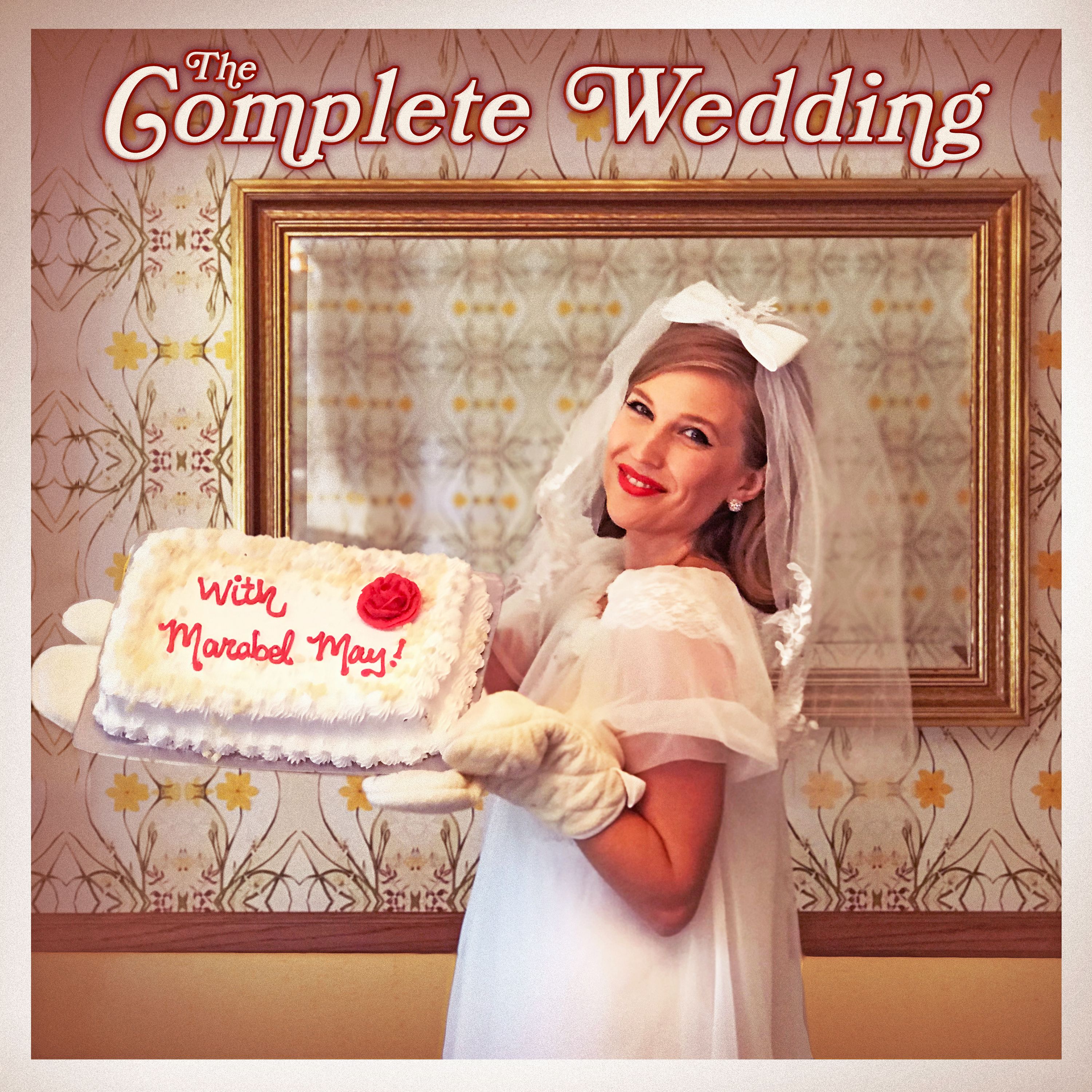 After giving the audience a quick quiz to help them figure out their "seasonal" colors, Marabel gives some specific suggestions for planning the perfect wedding. It is important to quote her entire speech on wedding scenarios in its entirety to fully understand how the series uses voice in concert with content to create its cutting yet absurd nature. Marabel speaks, as she always does, in a clear, enthusiastic, pedantic, very raced and gendered voice:
It's science! – but for ladies. I'll walk you through a few likely scenarios. I suggest taking notes with a pencil and paper. If you don't have access to pencils or paper, chocolate syrup on a large cutting board is your best bet. If you're a Winter having a city hall wedding, try a tea-length going away dress or a handsome woolen ensemble in French white with a veil-less headdress. Your flowers may be carried as a sheath or as an old-fashioned nosegay, pinned to a prayer book. Muffs are encouraged but not required. If worn, they must be flame-retarded [sic] or pre-burned. If you're a Spring having a formal church wedding, try a long-trained brocade dress in true white and carry an impressive bouquet of American beauty roses, along with an ivory rosary. Jewelry may be delicate and preferably real. No feathers! – unless of course it's a live canary, pinned to a broach borrowed by your mother-in-law's estranged secretary. If you're a Summer having a semi-formal wedding at home, try an ankle-length silk organza garden dress in bridal blush. Shoes are optional, but if worn must be made of glass blown by your tallest male relative on your maternal side. Sarah Bernhardt peonies are appropriate but no more than a half-dozen lest you come off looking braggadocio… is a word I learned!
Marabel's voice is very candid, and she speaks quickly, as if this ridiculous list of arbitrary rules is a reminder for the audience of concepts of which they're already aware. This monologue is exemplary of the series' style – twisting banal aspects of material culture into absurdity to highlight the pressures put on women to perform and perfect things like weddings, marriage, and motherhood. "It's science! – but for ladies" focuses on this fictional ideal that there is a formula that can lead to the perfect marriage, or that any aspect of idealized womanhood can be perfected if you just follow these easy steps. Woman's work is implied here to be banal, because it is something expected, and if one fails, the consequences are dire.
While listening to Marabel go on is wildly absurd, it is also mocking a one-size-fits all mentality about weddings, and womanhood in general. The wedding comes to represent a particularly coded – white, middleclass, heteronormative – aspirational cultural practice that, in this midcentury moment of Marabel, is becoming solidified as something one is "supposed to do" and supposed to do in a certain way. It suggests to the audience, too, that these practices, while shifting, haven't completely gone away. There are still expectations, traditions, and rituals that are widely expected to be performed by woman, relating not just to marriage, but work, sex, motherhood – the list goes on. This midcentury moment is still strongly felt in the contemporary moment, so as Marabel rattles off a list of what seem like insane rules – "Shoes are optional, but if worn must be made of glass blown by your tallest male relative on your maternal side" – they aren't all that far off from today. These notions of perfected womanhood, too, are strongly structured by ideals held over from that time about race, class, and gender.
In "Bridal Colors," the ladies of The Complete Woman also sit down to reminisce about their wedding themes – though Marabel is initially keen on having the ladies recall their roles in her own special day. When Marabel uncouthly mentions how much salve she used to clear up the many bug bites she received at Barbara's backyard wedding, Rita sunnily jumps in with, "You know a little trick is you put toothpaste on 'em." Marabel, comically deadpan, replies (you can hear the massive eyeroll just from her voice), "Oh, Rita." Heard on the recording, the voice actresses all burst out laughing at what sounds like an improvised moment. The absurdity of their conversation is brought to a halt by an honest suggestion, and it is quickly incorporated into the scene.
Voices shaking with a bit of laughter are heard throughout the series, but this stands out as particularly noticeable. It highlights the improvised nature of some of these group scenes by audibly breaking both the '60s narrative and the aesthetics of many contemporary hyper-edited studio podcasts. It would not be unheard in either moment to cut out the laughter or re-record the scene, but it is kept in, obvious to the audience. This laughter breaks the authenticity to the medium and works to successfully suture the podcast space to that of contemporary listeners. There is no frame to restrict, not only what can be heard, but what can be said. The diegesis spills into the space of the audience – they, too, are in the joke, for a moment no longer positioned as the fictional audience of Marabel May, but a comedy podcast audience. This builds a sense of community between listener and creator, as seemingly intimate moments of gaffes become integral to the both the diegesis of the podcast, but also the listening experience. In the case of The Complete Woman the format welcomes mistakes and improvisation as voices break out of characterization to comment on the reality behind the format – which is itself an important part of podcasting.
The comedy of The Complete Woman series is dark at times, as Lund notes both the limitations of women's roles throughout the 20th century and highlights the ways in which things have not changed. While The Complete Woman is not directly calling on its audience to act, it is addressing the complexities of nostalgia for a previous moment by noting how, in some ways, it closely resembles the contemporary one. There is nostalgia found in the audio-companion concept of the series, but the content – while humorous – can be quite deep and painful. The Complete Woman does not succeed because it draws fondly on former sound technologies, but rather because it – often harshly – points out the pitfalls of nostalgia; Marabel May's twisted world of the idealized straight white 1960s middle class housewife is often a direct commentary on the current position of women. The show suggests both that this kind of thinking hasn't shifted much, but also, and more significantly in this moment, the conversation surrounding middle class white women's complicity in upholding systemic racism. While the original The Complete Woman was released years before these conversations became widely prevalent, it holds up a satirical, yet bitingly revelatory mirror to the contemporary moment.
The podcast also amplifies the voices of the community of women behind it, who are looking critically at this moment in history by reframing and reengaging. It is worth noting Lund is a cofounder of the women-run Earios podcast network, that "strives to elevate the podcasting market with intelligent, diverse, subversive content BY WOMEN, FOR EVERYONE." It is through comedy – ironically and inaccurately territorialized as a very "masculine domain" in the U.S. entertainment industry – and the genuineness of these scenes which break open the diegetic sound space of the podcast, that the audience can hear – and connect to – the very real women behind-the-scenes of the parody. Ultimately, through looking at series like The Complete Woman, it becomes clear that podcasting is more than a return to familiar formats (radio) – it is creating something new. Improvisation and comedy are particularly significant: the moments of improv and mistakes can create genuine connection.
—
Megan Fariello is a Chicago-based writer with a background in cultural studies. She is currently a contributor with Cine-File, and has recently published work in Film Cred and Dismantle. Megan is also a PhD graduate from the Cultural Studies program at George Mason University. This article draws and expands on work from her dissertation, titled The Techno-Historical Acoustic: The Reappearance of Older Sound Technologies in the Contemporary Media Landscape, which intervenes in the disciplines of cinema and media studies and sound studies, examining how the rise of aurally-focused narratives in contemporary media – including television and podcasting – are recasting processes of nostalgia.
—
REWIND! . . .If you liked this post, you may also dig:
Vocal Gender and the Gendered Soundscape: At the Intersection of Gender Studies and Sound Studies–Christine Ehrick
Gendered Voices and Social Harmony–Robin James
A Manifesto, or Sounding Out!'s 51st Podcast!!! – Aaron Trammell
This Is How You Listen: Reading Critically Junot Diaz's Audiobook-Liana Silva
The Theremin's Voice: Amplifying the Inaudibility of Whiteness through an Early Interracial Electronic Music Collaboration–Kelly Hiser